Bus a Beach Angel and a Button
April 6, 2018 - 16 members of the Humboldt Broncos hockey team were killed in a traffic accident.  One of them was my great nephew.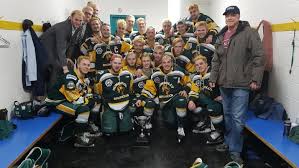 My own son lives far from me, in Vancouver, I decided to go and visit him a few days after the funeral. Hand in hand we walked and walked on our favorite beach and at one point found "a Beach Angel".  This broken piece of pottery found in two different places on the beach.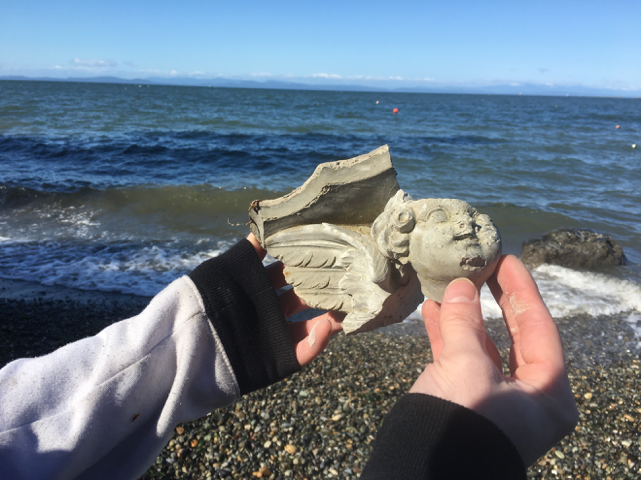 Revisiting old calls for art while at my son's, I read once again the call for art, for buttons
and thought, "I don't have a button story" and decided not to apply and deleted the reminder because I didn't want to make some pretend piece
about a button. Fate however, had a different plan for my button piece.
On the way back home, I placed the "Beach Angel" in my carry-on baggage, security searched my bags. They were very unsure about what I was carrying as it appeared as a big black blob on the screen. They asked me what it was and I answered "I don't know", that is not the answer to give at an airport.  They made me open it.  I carefully pulled out the angel and unwrapped the many layers of protection and burst into tears.  In my tears, I explained I didn't really know what it was or what it was made of but that it was special and that it had to be with me on the plane, because of the connection to Evan and the connection to my son. They relented even though they were unsure about it. In my tears, I bent down to get a tissue from my bag and there on the floor lay a black button, jammed between some metal table legs.  When I stood up I was really crying, sobbing and said, "I found a button, I need a button".  At this point I am sure the security personal really wondered about me. I cried even harder once I found the button as
I knew this was the button I needed to tell the story of an accident that had made everyone realize how delicate and fragile their lives are, how important time is, saying "I Love You" is and that sometimes we are only hanging on by a thread. There is a fine line between what we have now and what could be. 
Postscript:
I had three days to get the piece made and over to the UK to make the deadline. I was flying in late on a Sunday night and in my mind if I didn't have green ribbon to create the piece when I got home it would be next to impossible to finish it in time. I came in from the airport looked in my junk ribbon box and found, believe it or not, green and gold ribbon.  The piece was mailed the next day at an enormous cost for postage but worth it to share this unique story.