SWAG
Saskatchewan Wearable Art Gala
2017
Artist(s) Name(s): Monique Martin
- Title of Piece: Postmistress
- Category (Open / Corset-Codpiece / Headpiece):
- Materials Used: Approximately 11,000 used postage stamps from around the world, chiffon, beads, sequins, lycra, buttons, thread, cardboard, glue, ink, nylons, ribbon, boots, venetian blind hardware. Note: all materials were repurposed from second hand stores.
- Processes Used: Hand stitching, collage, sewing, paper engineering
- Garment Size (if applicable): 6-8,  7.5 shoe size

This dress plays on the words post and mistress which can be read in two ways. Postmistress, a woman in charge of a post office, when gender issues allowed that term or Postmistress could be thought of in another way that involves someone other than your husband. Either way this would be a very sexy way to have the mail delivered. The stamps from all over the world, show a visual pictorial history of many events. It was fascinating to find, sort and sew the stamps to the dress. I believe in the sending of old fashioned mail, that uses the handwriting of the sender, a stamp, and a person to deliver it.
The touching through handwriting, pen and paper across a distance, the effort to write, enclose a letter and mail it makes it a cherished object, a special gift, to be held with a type of reverence.

Monique Martin and Len Thomas
- Title of Piece: First Love
- Category (Open / Corset-Codpiece / Headpiece):
- Materials Used:Goat Beard Weed parachutes, paper, glue, paint, ribbon, broken jewelry
- Processes Used:collage
- Garment Size (if applicable): NA  *note, this hat appears to be extremely fragile but it is not. It is actually quite tough.

Brief Artist's (or Artists') Statement (NO MORE THAN 10 LINES / 150 words):
This piece is called "First Love" and incorporates the honeycomb symbol because the first flowers in spring are the Goat's Beard and dandelions. If it weren't for these unwanted weeds we might not have the bee population we do.  The bees fall in love with this weed first, not knowing that something better could come along later. We need to love the moments and the people we are with and not be so worked about what will come later.
SWAG
Saskatchewan Wearable Art Gala
2015
Monique Martin - Artist
Janet Taylor - Seamstress
The dress is inspired by the piece "Never-Ending", a sculptural print by Monique that
was exhibited in New York in 2015. Mobius strips will make up the majority of the dress.
For ticket : http://www.jackmillikincentre.com/the_events/saskatchewan_wearable_art_gala
Last night I received the award for "Best in Show" for the entry Paper Princess. I worked with Janet Taylor (seamstress) to make my vision come true.
Artist's Statement
The Paper Princess was inspired by the piece "Never-Ending", a sculptural print by Monique Martin.
Fabric and paper were printed with the words fame, fortune and happiness. A corset and matching skirt
were then created with the fabric and clusters of Mobius strips (twisted cylinders) were made
from strips of the paper. These clusters adorn the dress and symbolize the never-ending
quest for fame, fortune and happiness with which many in our society are obsessed.
Materials and Processes Used
Dress
fabric (taffeta, cotton, polyester, tulle) gros-grain ribbon, zipper, grommets, boning, thread,
hook and eyes, paper (print run ends from a print shop), ink, safety pins, re-purposed jewelry and
buttons
Hat
plastic Christmas tree stand, foam core board, silver-foil tape, hummingbird nest,
glue sticks, white glue, re-purposed jewelry and buttons, bubble wrap, rock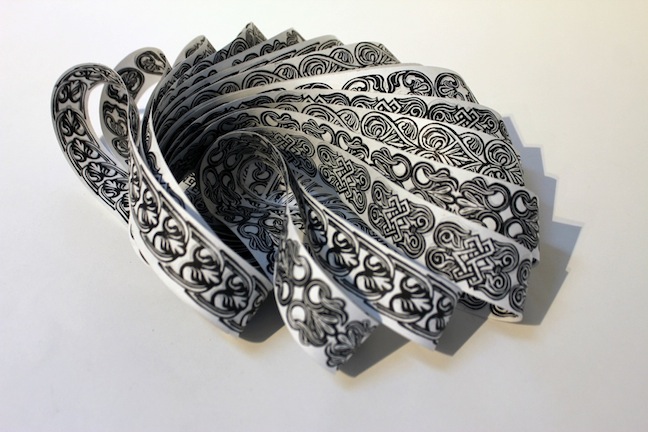 ---